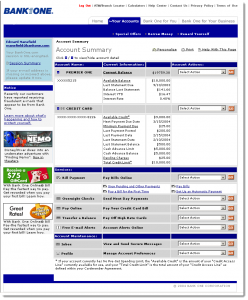 Project: Validation Usability Testing (Bank One Online Bill Pay)
Challenge: The Bank One Online Bill Pay was launched to enable customers to easily pay their bills.
While usability testing was conducted prior to the initial launch, additional enhancements were created by Bank One's internal Corporate Internet Group (CIG) and needed to be validated.
Approach:  In-person usability testing was conducted with seven Bank One customers.
– Participants were asked to complete common tasks using the Bill Pay system.
– Observers from CIG were able to view the sessions unobtrusively and correspond with the moderator via chat.
Key Findings: A common refrain from participants was about how busy they were, how many clients they had to take care of, multiple responsibilities, etc.
Time pressures had an impact on their expectations of a site like the Online Bill Pay system and the way they navigated the site:
Need for quick access to key info.
Desire for a fewer clicks.
Extraneous information is not appreciated or ignored.
Results: Findings helped to shape the final design.